There is just something about BD that can make 10 fully grown men stay up and watch with anxiety as little computer squads move to conquer little computer fortresses.
No other game has achieved this! BattleDawn, I salute you.
"Malice, a top member of ICE, the top alliance in the world, decided that Gotennia made an easy target.
Ten stacks of heavy units, an impossibly powerful force rivalling our entire colelctive forces, set forth from the southwest to strike at the fortress of Gotesford.
Lesser men would have turned away. But we are Diplomunion. We are Gotennia.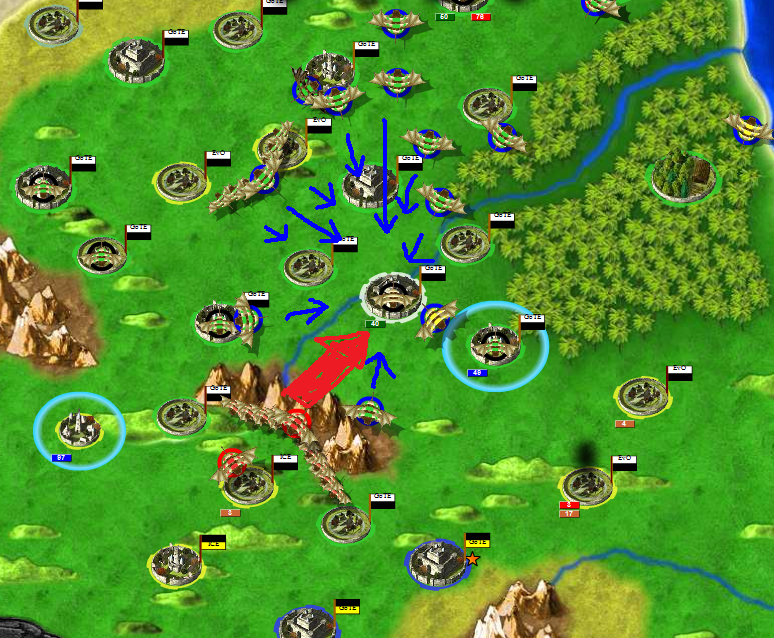 Hopelessly outmatched by higher quality units, the alliance nevertheless gathered to stand against the surging tide of ICE bastardry. Avitus, Blademage3, Inferous, Blackout, Snipermissile, Snipermissile's friend Banjita, and myself gathered to defend the city with everything available, from guns to cheap plastic swords.
On the battle map, more than 20 ships were moving on our side - few of them were near full, but it was an impressive display.
When the third turn drew near and Malice's dark hordes drew within range of the city, we braced ourselves for glorious defeat. Over MSN, we drew straws on relocating and starting over. I myself held my breath and dared not to look until it was over.
... And it was. Quickly.
Beautifully
.