As with the updates on the 19th of July (today) - A new referral system has been implemented!
Go to your
Colony
screen -->
Bonuses
- and there should be a link, like this one, underneath an introduction paragraph:
http://www.battledawn.com/?referer_id=X
Hand this link to your friends, and when they sign up, they'll be noted to have signed up under your link. and... the good part. If the person who has signed up under your link purchases tokens, you will gain 10% of those tokens as bonus tokens*!
This means, if your friend buys 3,000 tokens, you get
300 FREE bonus tokens!
*Bonus tokens are tokens that you gain via: Being given from the admin, via referrals and perhaps, in the future, other methods. These tokens are the "Blue" tokens- next to the blue T: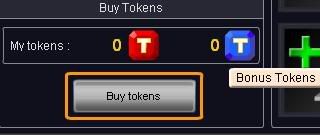 These bonus tokens can be spent on any of the boost packages that have this symbol next to their costs:

Enjoy! Any questions, post here!
St.Even - Battledawn Staff

_________________


The Lemon-Coloured* forum Demi-God!



The Battle Dawn Staff:
Working with you, to make and maintain
the very best browser based game!



*Lemon-Flavoured, according to Andrew...